Are You Looking for the best Removals Company in Sheffield?
Swift Removals Sheffield is Ready to do Great Work for YOU.
Making plans for a move? Don't do it alone! We're the best in the business when it comes to affordable and efficient removals. Contact Swift Removals Sheffield for a smoother moving day.
Removals Sheffield – Residential and Commercial Movers
Having performed removals in Sheffield and the surrounding area for decades now, we know all there is to know when it comes to making moving day manageable. Our expert team is the one to trust when you need a removals service that's reliable, responsible and great value for money. Find out for yourself why we are Sheffield's favorite removals service! 
Here at Sheffield Removals, we are professional experts when it comes to relocations. We have been in the industry for decades now, so we've seen it all! Customers love our flexible approach and the fact that we make meticulous plans for every move. When you hire us, you get more than just heavy lifters. You get an experienced team that knows what will make moving day go without a hitch. We're able to strategically plan so that we avoid any potential obstacle. What that means for our customers is that their moving day goes smoothly, with no unnecessary delays! We know that moving is a stressful prospect for many, and we love taking the load off our customers.
We are grateful for our reputation in Sheffield and the surrounding area. Word of mouth is a huge source of new customers for us, and we're proud of our consistent record delivering excellent customer service. Our level of friendly professionalism is unbeatable! At Sheffield Removals, we pride ourselves on going the extra mile. We strive to say yes to every customer request, and we are happy to provide no-obligation quotations so customers see for themselves how affordable our service is. Get in touch!
House Removals Sheffield
Moving home should be exciting, not intimidating! Take the dread out of moving day by giving the hard work to us. You'll soon be settled into your new place.
What's so hard about a house removal? Ask anyone who has ever attempted one solo. It's true that the prospect of packing up, moving and reinstalling all your possessions can be an intimidating one. However, there's no need to go it alone. That's why the team at Sheffield Removals is here! We're at your service in Sheffield and the surrounding area, and we'd be delighted to ensure that your house move goes as smoothly as possible.
Our first step in the removals process is making a detailed plan. This avoids any potential problems arising during the transportation process, and it ensures your items are prioritized for easy unpacking. Speaking of packing, remember to consult us before you begin. We've been there, done that when it comes to Sheffield house removals, and we will be happy to share our wisdom. If you need assistance at this stage or access to packing materials, let us know.
When moving day comes, you'll be amazed at how calm you feel. There's no need for it to be a stressful experience! We take care of more than just the heavy lifting. In fact, once you've hired our team, you can really sit back and relax. We're experienced and trained professionals, so your possessions are in safe hands with us. 
What are you waiting for? Call us today and we will provide a quotation with no obligation. See for yourself how affordable our excellent house removals service is, and let us make light work of your full house removal in Sheffield.
Office Removals Sheffield
A change of premises doesn't need to be a massive disruption to operations. When you contract us, your office move is performed with the utmost efficiency. Time is money after all!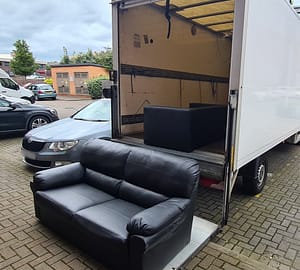 Moving premises is a big step for your company. We understand this, and we want to make it as straightforward as possible for you and your employees. Many companies make the huge mistaking of asking their staff members to perform their office removal in Sheffield. This soon becomes a false economy when expensive equipment is damaged or workers are injured due to their lack of expertise. It also means that business operations come to a standstill during the move. There is simply no need for a company to resort to these measures when the services of Sheffield Removals are available!
We take every step of your move seriously, which is why we make a detailed plan in advance of moving day. That allows us to prioritise items according to your business need and your layout plan, making it easier for operations to be up and running again as soon as possible. We know that the priority for our corporate clients is to resume normal service promptly, and our efficient team is just the one to make that happen for you! We work hard and we work smart to ensure that you are soon settled into your new location.
The relocation process doesn't need to be an additional stress. Let us reduce your workload by doing what we do best! We've been performing office removals for decades, so there's nothing we don't know about moving offices. That's why when you're moving office, you need to get in touch with our team.
Student Removals Sheffield
Head to university equipped with everything you need! Don't try to cram it in the car. We know the importance of preparation when it comes to embracing a new challenge.
Many students assume that they can cram their stuff in the boot of the car and head to university fully prepared. Once they make a list of items they really need, and once they see how much space those items take up, they soon change their minds. That leaves a dilemma: multiple car journeys, or leave some stuff at home? Neither option is especially desirable. Who wants to waste time on a back and forth journey between their parents' place and their digs? And who wants to end up at the shop buying things they already have at home, just because they didn't have the space to bring it with them? 
On a student budget, both options become expensive fast. That's why we developed our student removals service, an affordable option that allows students in the Sheffield area and beyond to arrive at university fully prepared for the experience. Moving out of the family home can be a very exciting transition! However, if you're unprepared, it may become a stressful one. Let us help you on moving day and you'll be glad you did! After all, when you leave the student removals up to us, that means you have more time and energy to focus on being a student. We know you're bound to have a busy schedule!
Trust us, you don't want to carry out a student removal without support. Have you felt the weight of those textbooks? We have the manpower and the perfect vehicle to make your move incredibly easy!
Furniture Removals Sheffield
Do you need to relocate some bulky items of furniture? Let us do the heavy lifting. We have extensive experience, so no job is too awkward for our expert team!
Furniture removals come in all shapes and sizes. Here at Sheffield Removals, we can accommodate every kind of furniture removal in Sheffield and the surrounding area! We have the appropriate vehicles and the required manpower to perform your heavy lifting and transportation jobs, whatever they necessitate. We are even able to help with dismantling, packing and assembling furniture, so don't hesitate to ask! Our professional team will always strive to say yes to your request. We go the extra mile for our valued customers, and that's why they continue to return to us!
There are many uses for our popular furniture removals service. Recently we have helped someone who is buying second hand furniture online to take advantage of some amazing bargains! Without our furniture removals service, she would have struggled to receive her items. Maybe you're in that situation too, or maybe you want to sell some items of your own? We would be happy to provide the delivery service you require so your furniture can find a new home.
Cramming furniture in the back of a car risks damaging the pieces as well as the vehicle. That's before you even consider the risk of physical harm when amateurs attempt complex removal jobs. We know how to transport your furniture safely, and we are happy to do so at a very competitive price. You'll be amazed by how affordable it is moving furniture with our expert team. Our service offers excellent value for money, so just ask for a quote today!
Piano Removals Sheffield
Moving a piano is a job for the professionals! We've moved all kinds in our time, and we're ready and willing to ensure your piano is transported safely and appropriately. 
Make sure your piano removal hits the right note by contacting Sheffield Removals! Piano removals are their own niche in our industry, and it's one that we specialise in. We always emphasise to customers the importance of hiring professionals to move their piano, and we have good reason to do so! You wouldn't believe how delicate a piano is, despite its size and sturdy look. There are a million ways a piano can be damaged during transit, and we know how to prevent every one! That's because we have extensive experience moving pianos in and around the Sheffield area.
There are many different types of piano, but they have one thing in common: they shouldn't be moved carelessly. You may think it's a simple matter of heavy lifting, but actually even the temperature of the vehicle they are moved in matters. Many subtle considerations are required to effectively and efficiently move a piano. That's before you even think about their difficult shape. Moving a piano from one place to another can be a very awkward procedure. Luckily our removals professionals have experience managing every tight corner you can imagine, so they'll perform the job without exposing your piano or your walls to any damage!
When you need to move a piano in Sheffield or the surrounding area, keep Sheffield Removals in mind. We offer a convenient, affordable, comprehensive and efficient service that you can depend on. Your piano is in safe hands with our highly competent team of trained professionals.
Man Van Services Sheffield
No job is too big or small! Our man and van service is incredibly popular in the Sheffield area. Many people offer it but they don't do it like us. 
Man and van, man with a van, light removals — call it what you want! The fact is, this service is an evergreen favourite. The reason it's so popular with our customers in Sheffield is that a man and a van can be such a convenient solution. Are you struggling to transport some items to the dump? Give us a call. Have you bought something big at the shop and now you can't fit it in your car? We'll be there as soon as possible. 
Whenever you need a man and van service, call Sheffield Removals. You benefit from the fact that the person who will attend you is a removals professional. This isn't a side job for us. We are experts in our field. One popular use of this service is performing light removals, often when the customer is a single person moving home. We can bring the right vehicle along and make light work of your removal, whether the job is big or small. Lifting all your luggage is strenuous work for one. Our professional team is used to this kind of hard work, so you can let us handle it for you. 
We understand that nobody wants to pay a fortune on removals in Sheffield and the surrounding area — moving house can be expensive enough! That's why we offer our service at very fair prices. Why not call today for a quotation? We're sure you'll be delighted at the incredible value for money and the excellent customer service on offer!
Sheffield, South Yorkshire
We are proud to be a local business operating in Sheffield and the surrounding area. That's because there's a lot to be proud of in Sheffield and South Yorkshire! We love to be part of a business that welcomes newcomers to the area when they move house or office to our beautiful city. Locals love our services, which is why we consider ourselves Sheffield's favourite removals service. We offer a range of different removals services for all different needs and circumstances. Sheffield is a diverse and vibrant city, and the range of our services reflects that.
Sheffield has a wonderful history, having played an important role in the industrial revolution. Business continues to thrive today, which is why our office removals service continues to be extremely popular. Sheffield's GVA (gross value added) has increased by 60% since 1997, showing that recent redevelopment in the city has enabled it to grow. You may know about Sheffield's proud sporting tradition: football, snooker and ice hockey have a home here. If you are planning to make the city your home too, get in touch with Sheffield Removals.
Did you know that, in 2003, Hallam —  a district of Sheffield — was the highest ranking area outside London for overall wealth? This shows that Sheffield is a city to be reckoned with. Don't worry though, we haven't increased our prices to match this prosperity! In fact, we think you'll find our services are offered at surprisingly reasonable rates. That's why Sheffield citizens of all walks of life use and recommend our reliable removals company. 
There are many things that make Sheffield special, and that's why we are so delighted to serve and be part of the community here. When you need a removals company, why not choose a local one with lots of experience in the area? You won't regret hiring Sheffield Removals!
Removals Sheffield, During Corona Virus Lockdown
Our business continues to operate in the Sheffield area, so if you need removals support of any kind please feel free to contact us. Naturally, we have implemented meticulous safety measures with respect to the ongoing COVID-19 pandemic. We are happy to discuss these measures with any potential customers who may have concerns. As always, excellent customer service is to be expected from our team. At this time, this necessitates an extra focus on health and safety, so thank you for understanding the importance of these measures. They have been implemented to protect both our customers and our colleagues, and they're informed by government guidelines.
Find Us on Facebook, Twitter, Youtube, Google, Instagram, Pinterest, Yelp, Yell, DailyMotion,  RemovalReviews, Near.co.uk